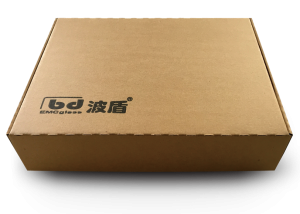 All products are custom-made according to design drawings. When ordering, the customer need to provide relevant dimensional and technical requirements. Our engineers will help to choose equivalent Bodun products in accordance with specifications and application environment. The delivery time is normally within 2-4 weeks after the receipt of order. We have no minimum order quantity. Products can be purchased from one piece to large volume.
.
Notes:
For mesh laminated shielding glass: The standard thickness are 2.5mm and 4.5mm (in any shape and size). Other thickness are also available, such as 1.0mm (minimum)/1.5mm/1.8mm/2.5mm/3mm/4.5mm/5mm/6.5mm/8.8mm, etc. No limit on the maximum thickness. Tempered glass can also be provided.
For plastic shielding windows: The standard thickness are 0.8mm/1.0mm/1.5mm/1.8mm/2mm/2.5mm/3mm/3.5m/4mm/5mm, etc. Plastic windows are more flexible in the structure design and can be made to any special shapes.
For bonding products: Displays need to be provided by customers and sent to our production base. All displays will be examined before processing. The bonding process will add a certain thickness in front of the screen. Customers need to specify requirements on thickness and other functions (shielding, heater, sunlight readability, etc.).
When choosing shielded windows with wire mesh for LCD displays, the custom mesh angle is required to eliminate the interference effect (moiré) on the screen. Customers can either send us the matching display for measuring or require a standard testing sample (90') from us.
.
Order Process